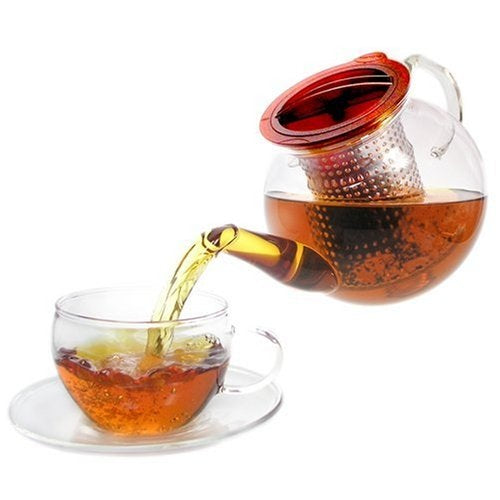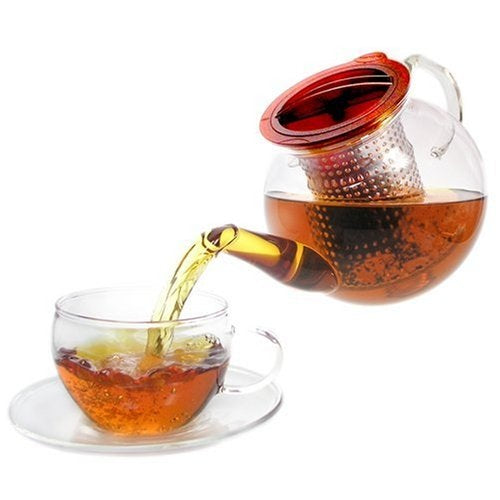 "Finum Tea control 1.2" Colour: Red glass teapot (1.2Ltr.) + filter insert in a sales box
1 borosilicate glass teapot (40-ounce), 1 tea control brew-stop filter, Easy to clean and safe for dishwasher.
--
Tea Control 0.8 L, ideally brews 2 to 4 cups. Control the strength and the taste of your tea with a simple turn of the lid. How does it work? Put loose tea or a tea-bag in the filter then pour in hot water to fill the entire teapot, place the lid into the filter and let the tea brew. When your tea is strong enough, simply turn the lid of the Tea Control - this separates the tea from the drink and releases all flavour into the pot. Remember: you will not have to remove the filter.You can brew your tea right a the table - no dripping, no waiting - just enjoy delicious ready-to-drink tea. The stylish borosilicate glass pot allows you to monitor the expansion of the leaves and the spreading of the tea color and flavor. High tech material BPA-free Tritan copolyester makes the patented infuser highly durable and completely taste and odor free. The eye-catching design has been awarded with the exclusive European Red Dot Award. Riensch & Held is the German manufacturer of the finum® brand.
Why Choose Us ?
Our offering includes over 300 natural teas and spices available to our customers. Ranging from single leaf/spice to blends and flavors. We also specialize in custom blends.
Shipping
Shipping across Canada is free for orders worth $60 or above. Flat rate $9 for orders specific to Canada. Flat rate $19 for orders in U.S. and Canadian Territories. For orders outside Canada and U.S. write to us at sales@cjaytea.com or give us a call on (905) 889-3755.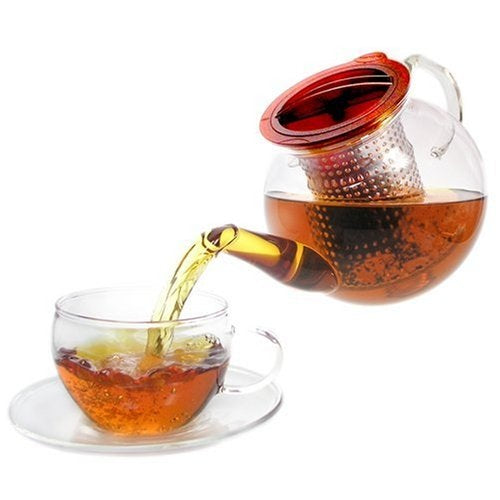 "Finum Tea control 1.2" Colour: Red glass teapot (1.2Ltr.) + filter insert in a sales box