TEA TEASE!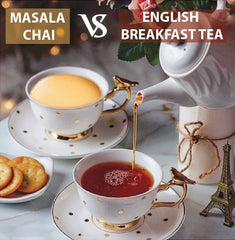 Our top 2 best-selling teas are in for a tease this cozy season.
WHICH TEAM ARE YOU ON?
MASALA CHAI or ENGLISH BREAKFAST TEA
Masala chai has our heart as we proudly own the trademark "masala chai" in Canada (1994). And we admit to the soft corner we have for this unique traditionally blended beverage.
On the other hand, our customers also love our English breakfast tea for its robust and malty tastes. Both tea's come from the same black tea blend but are unique in its own way.
Masala chai.
It's much more than just a regular spiced tea. Masala chai is an emotion. The milky froth and spice-filled bubbles flecked with black tea grains rise beyond the pot's rims, too tempting to look away. Masala chai is a milky, sweet, spice filled black tea that originated in India but is now loved all over the world. Our masala chai is handcrafted for you to love it and enjoy it time and again.
English breakfast tea.
Breakfast tea, often known as English breakfast tea, is a classic mix of several black teas. This tea is one of the most well-known blends, and it's highly popular in Irish, British tea cultures and our customers. This tea has a wonderful combination of flavours that soothes and calms you. It complements the flavour of an English breakfast. This tea is a mix of Kenyan, Ceylon, and Assam teas.
But to end the conflict which one is better for you. Let's talk benefits.
MASALA CHAI
REDUCES INFLAMMATION
Masala chai is a healthful beverage because to the many spices and herbs used in its preparation. Ginger is the most prominent herb, and it offers anti-inflammatory qualities to your drink. Aromatic cloves are another important component. This chemical aids in the reduction of inflammation.
IMMUNITY BOOSTER
Because it contains clove and cinnamon, this tea is beneficial to your immune system. When these substances are combined, their effectiveness is increased. They have a synergistic impact that strengthens the immune system when taken together.
PROMOTES DIGESTION
Ingredients such as cardamom, cloves and tulsi used in this tea aid in digestion. When you add ginger to this delicious tea, it not only enhances the taste but also enhances its deliciousness. It creates a calming and refreshing effect on your body. So, if you are ever having problems with your digestive system, you should give masala chai a try.
CHOLESTEROL CONTROL
The main ingredient in this tea is black tea, which is a powerful antioxidant. Not to mention, the cardamom and cloves in this drink help lower cholesterol. The components of this drink can also help prevent heart problems such as irregular heart rhythms and blood pressure.
ENGLISH BREAKFAST TEA
NATURAL SOURCE OF ANTIOXIDANTS
Flavonoids, which are natural antioxidants, are found in English breakfast tea, as well as other black teas. By fighting free radicals in the human body, antioxidants may assist to postpone the onset of age-related illnesses. A constant state of calm helps to overall well-being in several ways, from a stronger immune system to better thinking and even a reduction in the onset of age-related illnesses.
HEALTHIER MORNING CHOICE
The caffeine content of English Breakfast tea is moderate. When taken in moderation, caffeine has been shown to increase numerous elements of memory and learning. Caffeine is a stimulant; therefore, it should be used in moderation; black tea has half as much caffeine as coffee, making it a gentler way to wake up. Starting the day with a cup of English morning tea rather than coffee is a creative approach to cut down on caffeine without giving up a favourite daily ritual.
HEALTHY BONES & BLOOD
English breakfast tea includes practically no calories and no sugar because it is made without milk or natural sweeteners, making it a great alternative for diabetics and anybody watching their caloric intake. It also includes vitamin B, which aids in the production of new red blood cells in the body, which is essential for overall health. Phosphorus and magnesium, which are abundant in English morning tea, are essential for strong, robust bones.
Looking at the list of benefits. How about you have both of them?
Happy sipping!